The first American Military Prayer Book I ever saw was given to me by my "Uncle Doc," my father's oldest brother, US Army Captain Manuel Ray. Before I deployed to Vietnam, Uncle Doc gave me, The American Armed Forces Prayer Book, 1951. I took this prayer book with me in March 1967, on my way half way around the world as a Marine Captain, where I served in country as an advisor to the 3rd Vietnamese Marine Infantry Battalion. "Uncle Doc" inscribed a short note inside the front cover of the prayer book – "So you can have your own G.I. Service where there is no church nearby".  After 35 years, I found the prayer book again in January 2001, when my son was on his way to Marine Corps Boot Camp at Parris Island, South Carolina.  10 years later, I am pleased to be a part of a new project at First Principles Press.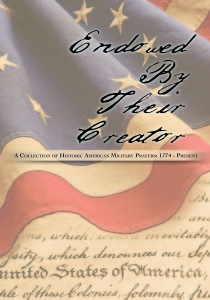 The latest First Principles' project and campaign is the, U.S. Armed Forces Prayer Book: A Collection of Historic American Military Prayers 1774-1988.  As battles rage in Washington and the courts to abolish the first two principles of America's military institution – Exemplary Conduct and Daily Prayer – our military needs to be fortified with the rights and intentions established by our founding fathers.  These battles are ultimately meant to replace America as "One Nation Under God" and establish a "One Nation Under Government", thereby creating a law order free of the nation's founding order, which was drawn from the Bible.  Instead, they seek a new order based on "moral relativism" and "ceremonial deism", dispensing with any and all of the uncomfortable truth of America's history as a "Christian Nation."  In short, man as Judge and Ruler of this nation, not our Creator who is the true source of American liberty.
First Principles has repeatedly engaged in the battle to defend and restore the military's founding principle of Christian prayer, which is a battle-proven military necessary vital to victory.
There has not been a military prayer book published in over 20 years. Seventy-four prayer books have been published and/or distributed most through official U.S. government channels to our fighting forces beginning in 1785 through 1988. Of those seventy-four prayer books we were able to obtain twenty-seven; in addition to a dozen or so available online.  Over 250 historic military prayers were collected – Protestant, Catholic and Jewish – on a variety of prayer topics to bolster and encourage our soldier's hearts and souls.  With this prayer book, we have aimed to:
Present the prayers and actions of military leaders in preparing the Armed Forces to "pray as well as to fight" along with a chronicle of America's wars and conflicts.
Provide officials with the legal and historic context for continued leader-led Christian prayer in the Armed Forces.
Provide Chaplains, military leaders and our fighting men and women with access to an expansive body of prayers, included with the rich history of Christian prayer in the American military extending from the nation's founding.
And so, after years of prayer and action, the American Armed Forces Book of Historic Prayers is nearing completion!  With these battle-tested, historical prayers, we hope that this book will provide guidance, comfort, and confidence through Jesus Christ for all who serve to protect One Nation Under God.